First Attempt for publicity placed in the Boston Pheonix in 1987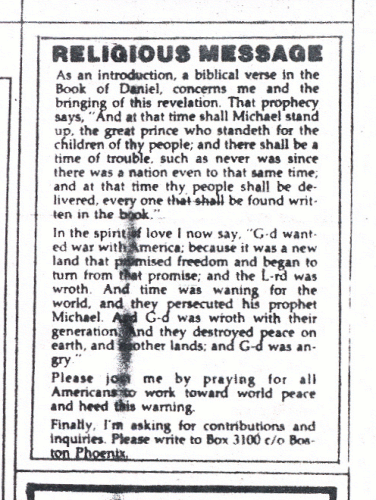 A Veteran...
I'm a veteran of the U.S. Army, as a Fire Support Specialist, and although I only served about twenty months, I made my mark for a bunch of reasons. In a yearly two-mile running test of half of my battalion, I was the second fastest, but I lost to the only Sargent to race, so I might have been the fastest for my classification.
Earlier, I was invited to the U.S. Military Academy Prepratory School (USMAPS). I was too old for the school, but we reasoned maybe Westpoint needed an alternate. My captain approved my application, but I never heard back.
One day while training with another group of Airborn Rangers one of my peers found and killed a large garden snake. I decided it looked better than the ham in a can in front of me, and the Rangers confirmed it was edible. However, after I cooked it up two ways in a soup and fried, no one wanted any, despite the absolute deliciousness of my efforts.
I also played on the quasi-Fort's soccer team in the civilian league. My team won the championship, although they were all close games, and I was the star defense player.
Another time, I was asked to qualify on a grenade launcher, and I broke the giant cement target that stood for years, as well as making all my other shots. I looked around at the seventy five or so others struggling that day to see if I was being 'put on', but the others were obviously a random selection. I had a natural ability on that particular weapon, not unrelated to my shooting .22s as a kid in summer camp, or my complete command of street hockey lob shots.

For those interested, as author of this website I'd like to offer Domains for Sale: Click Here


On weekends, I spent every Saturday at the base's synagogue praying. I also spent a lot of time in the non-alcohol topless bars in Tacoma at the time. Same thing, right?
At my last assignment my silent respect for the Ayatollah Khomeni had caught up with me. I was obviously hated by several of the higher ranks, and got depressed by them at times. I broke regulations and went to a massage parlor. When I walked out one of the new officers in charge suspiciously drove by, and I thought I'd be charged. I wasn't, and never went back, but got in trouble for extra duty once or twice. Finally, while on crutches and after appearing for a head count, I was recalled after hobbling up two flights of stairs in pain. I refused the order, and ended up with a "General Discharge under Honorable Conditions."
---
After the Military Mini-timeline
After my discharge I went to UMass and graduated with a Bachelor's in Journalism. Immediately after I started publicizing against war, and got stuck near Cape Cod without work for years. During that time I wrote creative material, and got arrested at least seven times standing for what I believe in. No arrests for fights, but false testimonies, false arrest, etc., never leading to any convictions. The chants against Plymouth Police, I started in response to mistreatments, weren't accepted as true prophecy by enough of the courts, press, government, etc., to prevent my commitment to a mental hospital.
Three officers on separate occasions had pretended not to know me after my canvas of about 500 homes in the immediate area two years before, a strong newspaper ad in
The Boston Pheonix
, campaigns at local colleges, a solicitation permit in Miami Beach, and more. My poverty level was legislated as prohibited from release, and therefore I was coerced to accept disability money.
I took some of my first retroactive payment, and went to Israel until my money ran out.
---
My Elementary School Years
I spent all my schooling in Needham from Kindergarten through High School. My town had some hidden dirt-bike tracks and I got my first motorcycle, a 50cc, at about age fourteen. Earlier, I lived next door to a veterinarian, and was brought to his office as his 'junior assistant' during school vacations a couple of times. My parents divorced when I was about fifteen, and I rebelled ferociously. Nearly my first act was to get a puppy, which unfortunately I didn't train. I'd become friends with the family of a big award-winning kennel, so I ended up bringing her to boarding school there. First, I learned everything she learned separately, and then together. I ended up with a great dog, and a life-long skill. I also began working very early, at the expense of my studies, in restaurants and machine shops mostly. I was an excellent worker by the time of my missed graduation, and a poor one when I reached graduation. I'd quit school at sixteen, but went back the next year. I didn't take to alcohol, but found marijuana very helpful. I've learned the tiredness after is similar to the anti-cholenergic effects of some safe medicines, and without that knowledge my maturity was incomplete.
---
Two Lofty Goals
The first, is to return the U.S. to the ideals our founders tried to instill. The dominant political parties have again outlived their viability. They must be dissolved, or reorganized and renamed, to bury the atrocious shame they've brought on us. They consider themselves spiritually superior to their predecessors, whom dissolved gracefully. Their dangerous confusions start with the criminal status of safe recreational drugs, and end with the attack or destruction of well intentioned, sovereign nations.
My second goal is to change my religion, described in Isaiah as a 'branch'.
(religious, enlightenment, prophesy, prophetic, modding, spirituality, autobiography, mike, mateek)
Spring 2019 - My Neighborhood
Marriage Prophecy (a.k.a. total confusion)
I think this should be a new branch of theology, since all the future prophecies about marriage are in one area of the Old Testament, ambiguous, and possibly entirely rhetorical, since in my late 50s I'm single, and suffer from several maladies.
They're in Isaiah, and around my descriptions.
One interpretation has the reader believing in my future marriages, plural. Chapter 54 of Isaiah might mention two women in a braid of themes, with some possibility of polygamy.
Reading Isaiah another way associates me with just one "young" wife, or encrypted in Chapter 29 as the description of a city.
Finding a last interpretation involves a Prophet unnamed in Isaiah, but reintroduced through a contact or two.
---
Links of interest...
Haaretz.com - Jerusalem family finds 2,000-year old mikveh underneath living room.
Governing.com - In a First House Votes to Stop Federal Meddling in Medical Marijuana
Governing.com - Mentally Ill and Still Without Health Insurance
Governing.com - Study Shows Impact of Cutting Planned Parenthood Funding
An Israeli (cardboard) Bicycle That Could Change the World
Center for Shelter Dogs - a tool for adoption centers and startups, developed in my old neighborhood.
CQ - A Conventional Approach to Amending the Constitution
Los Angeles Times - Congress quietly ends federal government's ban on medical marijuana
Forbes.com - A Global Epidemic Of Senseless Energy Policy
(Under a different title inside)
My UMass-Amherst Rabbi - Filled in on holidays because we were between full time Rabbis.
Forbes.com - Missing the Point on July 4: The Right to Vote Was Not The Main Achievement in 1776 - The author doesn't think we've lost our rights, but he lists three ideals he considers more basic than voting.
Seattle Times - "New State Law Leaves Patients in Pain" - A touching story in a case where legislation to save money didn't list exemptions for diseases that are debilitating without proper medication.
Governing.com - "Six State Waivers for Health Insurance Rules Approved in 2011" - This is the workings of a consumer protection provision of the new national plan that refunds money to all premium payers if agencies spend too much on themselves. Each insurer is considered state by state.
---
Lighter Stuff


Minecraft Waterfall House - My first 1.8 game played, now on a server.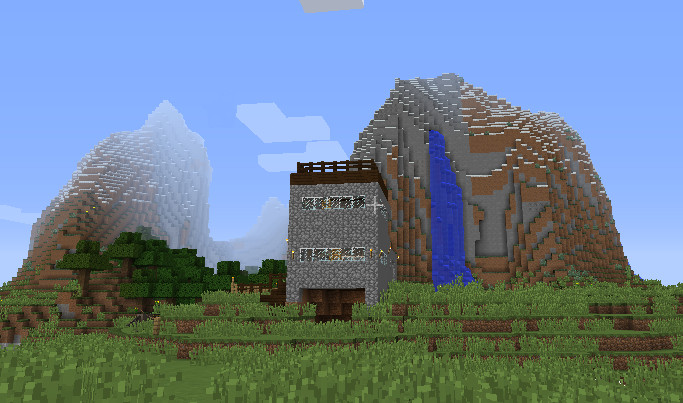 I went on a walkabout to find a horse after finding two saddles in an abandoned mine, got lost too far south, and found this area. After getting home, I chopped down a long twisty dirt road and got back here with a horse in about a month. What you can't see is the two other waterfalls facing the other direction, and a fourth around the corner to the left. I'd never played PC games until I discovered Minecraft in Fall 2014. Even though this house is very simple, I like the way it fits with the surroundings. There's a Nether Portal in the open basement I can take a horse or mule into to get back to the farms.

---
Click here for the Blog about my adopted dog Magnet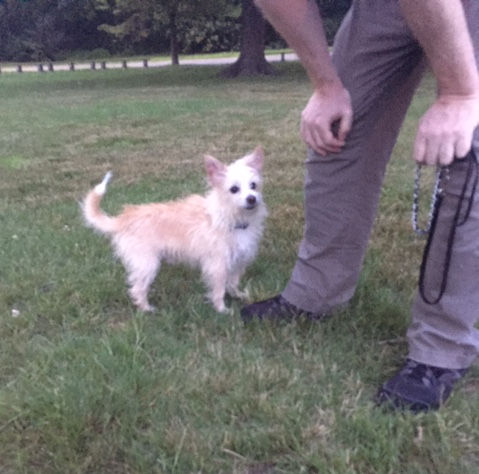 Microwave vs. Campfire